What is bmi calculator?
BMI Calculator is FREE computer program which calculates your Body Mass Index and Basal Metabolic Rate and tell you if you are underweight, normal, overweight or obese and tells you the amount of calories your body uses to maintain the weight. Those kind of informations are important to have on hand for any dieting plan. BMI Calculator is desktop computer program - its advantage over online BMI and BMR calculators is that it is installed on your computer, you can access it without internet connection, it is lightweight and fast and you can put it on USB or removable disk, and it calculates BOTH - BMR rate and BMI index. This free little program is my effort to help fight growing obesity problem caused by modern way of living.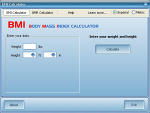 BMI means "Body Mass Index" (BMI). It is a number derived from your height and weight. BMI often indicates overweight problem and can be usefull in determining potential health risk. Typically, a BMI index between 20-25 is considered normal and healthy.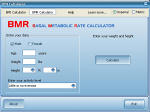 BMR means "Basal Metabolic Rate " (BMR). It simply represents the number of calories your body uses for maintaining energy level through a day.
random advice
Do not take BMI calculations too seriously. There are various body types and individual metabolic rates that BMI does not takes into account. Use BMI as a starting point to gauge your overall body composition. After all, nothing beats good old mirror.
NEWSFEEDS
How to Prevent Type 2 Diabetes: 6 Useful Steps
What is type 1 diabetes and type 2 diabetes? Learn about six useful steps that may prevent type 2 diabetes and the risk factors for type 2 diabetes.
News Roundup and Strange Links
The Worlds Thinnest Noodles Chinese noodle king Li Enhai manages to thread 39 strands of noodles through the eye of a needle. The amazing feat has put him and his noodles in the Guinness Book of Records. Perhaps it's the start of a new diet - eat thinner noodles and lose weight. Obese Weighed on Horse Equipment Hospitals in...
Is Healthy Food Too Expensive?
New research has highlighted three barriers to eating healthily; income, education level, and perceived price of healthy food. Higher socioeconomic groups ate less fat, saturated fat and cholesterol and ate more fiber, fruits and vegetables, and had more calcium in their diet. (source)...
Social eating leads to overeating, especially among men
Gorging at a holiday meal or friend's BBQ might have more to do with your ego than the quality of the food - especially if you're a man.
Could turning white fat to brown hold key to new obesity treatment?
White fat is linked to obesity, but brown fat uses up energy. Find out how scientists discovered the secret to converting bad fat to good.