What is bmi calculator?
BMI Calculator is FREE computer program which calculates your Body Mass Index and Basal Metabolic Rate and tell you if you are underweight, normal, overweight or obese and tells you the amount of calories your body uses to maintain the weight. Those kind of informations are important to have on hand for any dieting plan. BMI Calculator is desktop computer program - its advantage over online BMI and BMR calculators is that it is installed on your computer, you can access it without internet connection, it is lightweight and fast and you can put it on USB or removable disk, and it calculates BOTH - BMR rate and BMI index. This free little program is my effort to help fight growing obesity problem caused by modern way of living.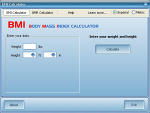 BMI means "Body Mass Index" (BMI). It is a number derived from your height and weight. BMI often indicates overweight problem and can be usefull in determining potential health risk. Typically, a BMI index between 20-25 is considered normal and healthy.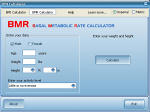 BMR means "Basal Metabolic Rate " (BMR). It simply represents the number of calories your body uses for maintaining energy level through a day.
random advice
Atkins diet is a very efficient, low carb and high fat diet that requires great discipline. Although the results can be fantastic this type of diet is not for everyone.
NEWSFEEDS
How To Find Healthier Pasta
WebMD have compared various brands of pasta - in particular those that use whole wheat and have a higher fiber content. Whole wheat pastas are made from durum wheat. Durum is the second-most widely cultivated wheat species (after common wheat). The whole-wheat pastas tend to have a higher protein content (7g to 10g per 2 ounce dry serving)....
Labeling Children Obese When They Enter School Is A Flawed Approach To Dealing With Obesity Epidemic
Internationally recognised expert in children's learning, Professor Brian Cambourne, today warned that labelling children obese when they start school could be a highly damaging step. Professor Cambourne raised strong concern about adopting a 'one size fits all' approach to tackling the health risks associated with childhood obesity. [click link for full article]
Exercise Linked To Less Depression And Anxiety
A UK study suggests that regular intense physical exercise is linked with lower rates of depression and anxiety in men up to five years later.The findings are published in the American Journal of Epidemiology.While some studies have shown links between reduced incidence of mild depression and regular physical exercise, many scientists cannot agree on whether physically active people are less likely to have depression and anxiety. [click link for full article]
Managing And Preventing Obesity In Canadian Adults And Children
With 59% of Canadian adults being overweight and 23% being obese, plus the disturbing increase in childhood obesity, it is clear that obesity is a major individual and public health issue in Canada.Dr. [click link for full article]
Glycemic Load: Overrated?
Tufts University have just completed the first phase of a study comparing low-glycemic-load and high-glycemic-load diets. The results show no significant difference after one year of weight loss....