What is bmi calculator?
BMI Calculator is FREE computer program which calculates your Body Mass Index and Basal Metabolic Rate and tell you if you are underweight, normal, overweight or obese and tells you the amount of calories your body uses to maintain the weight. Those kind of informations are important to have on hand for any dieting plan. BMI Calculator is desktop computer program - its advantage over online BMI and BMR calculators is that it is installed on your computer, you can access it without internet connection, it is lightweight and fast and you can put it on USB or removable disk, and it calculates BOTH - BMR rate and BMI index. This free little program is my effort to help fight growing obesity problem caused by modern way of living.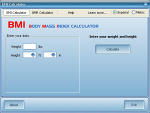 BMI means "Body Mass Index" (BMI). It is a number derived from your height and weight. BMI often indicates overweight problem and can be usefull in determining potential health risk. Typically, a BMI index between 20-25 is considered normal and healthy.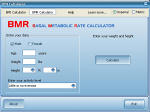 BMR means "Basal Metabolic Rate " (BMR). It simply represents the number of calories your body uses for maintaining energy level through a day.
random advice
In general, modern diets for reducing weight can be categorized in low-carb/high-fat and hi-carb/low-fat diets, each of them having many variations.
NEWSFEEDS
Evidence insufficient to make recommendation regarding screening for lipid disorders in children and adolescents
The U.S. Preventive Services Task Force (USPSTF) has concluded that the current evidence is insufficient to assess the balance of benefits and harms of screening for lipid disorders in children and...
New study reveals a novel protein linked to type 2 diabetes
Findings from Boston University School of Medicine (BUSM), which appear in eLife, provide a possible explanation as to why most people who are obese develop insulin resistance and type 2 diabetes.
Whole Grains... Good for the Brain
Nutritionists and Health Experts everywhere are telling us we need to eat a lot more whole grains to be healthy in the 21st Century. What are whole grains and why are they so important to our diet? Charles Tremewen and Maria Emmer-Aanes, both of Nature's Path Foods, share with us their knowledge of whole grains and how whole grains they help us cope with a hectic lifestyle. Our featured guest today is K. Dun Gifford, head of the Oldways Preservation Trust and founder of the Whole Grains Council. Dun is a expert on whole grains and responsible for a number of nation wide initiatives to help us make healthier food choices.
Fatty Liver: All You Need to Know About Nonalcoholic Fatty Liver Disease
Learn all about nonalcoholic fatty liver disease. This article looks at the causes, symptoms, diagnosis, treatment, and outlook for NAFLD.
Dog Powered Scooter
A recent post showed someone "walking" the dog while driving their car. Here's another lazy better idea - the Dog Powered Scooter. From the site: A hobby/sport you both can enjoy so that more time can be spent together. Identity and pride for your dog....