What is bmi calculator?
BMI Calculator is FREE computer program which calculates your Body Mass Index and Basal Metabolic Rate and tell you if you are underweight, normal, overweight or obese and tells you the amount of calories your body uses to maintain the weight. Those kind of informations are important to have on hand for any dieting plan. BMI Calculator is desktop computer program - its advantage over online BMI and BMR calculators is that it is installed on your computer, you can access it without internet connection, it is lightweight and fast and you can put it on USB or removable disk, and it calculates BOTH - BMR rate and BMI index. This free little program is my effort to help fight growing obesity problem caused by modern way of living.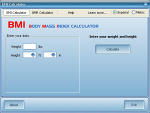 BMI means "Body Mass Index" (BMI). It is a number derived from your height and weight. BMI often indicates overweight problem and can be usefull in determining potential health risk. Typically, a BMI index between 20-25 is considered normal and healthy.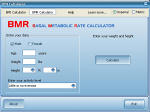 BMR means "Basal Metabolic Rate " (BMR). It simply represents the number of calories your body uses for maintaining energy level through a day.
random advice
In general, modern diets for reducing weight can be categorized in low-carb/high-fat and hi-carb/low-fat diets, each of them having many variations.
NEWSFEEDS
The Proportion Of Americans Who Are Severely Obese Increased Twice As Fast As The Growth Seen In Moderate Obesity, RAND Study
The proportion of Americans who are severely obese -- about 100 pounds or more overweight -- increased by 50 percent from 2000 to 2005, twice as fast as the growth seen in moderate obesity, according to a RAND Corporation study issued recently. [click link for full article]
What's all this about Hemp?
Surely no member of the vegetable kingdom has ever been more misunderstood than hemp. For too many years, emotion-not reason-has guided our policy toward this crop. And nowhere have emotions run hotter than in the debate over the distinction between industrial hemp and marijuana. This pdocast is intended to inform you on the true facts around hemp so you can distinguish between myth and reality. We talk with Charles Tremewen, Andrew Weil, Dr. Brian Becker and Adam Edinger about hemp and why it is such a terrific food plus the latest on regulations regarding hemp.
The Cardio-Free Diet
Fitness 'expert' Jim Karas has written a diet book claiming that cardio is a complete waste of time. The Cardio-Free Diet advises us to ditch the cardio: "it kills your time, your energy, your joints, and your motivation" "Cardiovascular exercise kills a weight-loss plan, your internal organs, your immune system, your time and your motivation. If your true goal...
Weight Gain In Pregnancy Linked To Overweight In Kids
Pregnant women who gain excessive or even appropriate weight, according to current guidelines, are four times more likely than women who gain inadequate weight to have a baby who becomes overweight in early childhood. These findings are from a new study at the Department of Ambulatory Care and Prevention of Harvard Medical School and Harvard Pilgrim Health Care and are published in the April issue of the American Journal of Obstetrics and Gynecology. [click link for full article]
New Guidelines To Address Growing Obesity Epidemic
The first-ever Canadian Clinical Practice Guidelines (CPG) on the Management and Prevention of Obesity in Adults and Children, published April 10, 2007 in the Canadian Medical Association Journal (CMAJ), recommend that waist circumference be measured in all Canadian adults, and that a national surveillance system be developed that incorporates this measurement along with height and weight. [click link for full article]