What is bmi calculator?
BMI Calculator is FREE computer program which calculates your Body Mass Index and Basal Metabolic Rate and tell you if you are underweight, normal, overweight or obese and tells you the amount of calories your body uses to maintain the weight. Those kind of informations are important to have on hand for any dieting plan. BMI Calculator is desktop computer program - its advantage over online BMI and BMR calculators is that it is installed on your computer, you can access it without internet connection, it is lightweight and fast and you can put it on USB or removable disk, and it calculates BOTH - BMR rate and BMI index. This free little program is my effort to help fight growing obesity problem caused by modern way of living.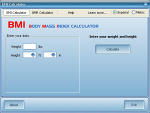 BMI means "Body Mass Index" (BMI). It is a number derived from your height and weight. BMI often indicates overweight problem and can be usefull in determining potential health risk. Typically, a BMI index between 20-25 is considered normal and healthy.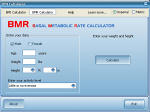 BMR means "Basal Metabolic Rate " (BMR). It simply represents the number of calories your body uses for maintaining energy level through a day.
random advice
Atkins diet is a very efficient, low carb and high fat diet that requires great discipline. Although the results can be fantastic this type of diet is not for everyone.
NEWSFEEDS
Ethicon Endo-Surgery Files For FDA Approval Of New Gastric Band For Treatment Of Morbid Obesity
Ethicon Endo-Surgery, Inc., a Johnson & Johnson company, today announced that it has submitted a Premarket Approval (PMA) application with the U.S. Food and Drug Administration (FDA) for its adjustable gastric band, an implantable device intended to treat morbid obesity. [click link for full article]
Managing And Preventing Obesity In Canadian Adults And Children
With 59% of Canadian adults being overweight and 23% being obese, plus the disturbing increase in childhood obesity, it is clear that obesity is a major individual and public health issue in Canada.Dr. [click link for full article]
Cosmetic Surgery: Would You? Have You?
Earlier this year the FDA approved the use of silicone gel-filled breast implants after years of health concerns. This comes at a time when cosmetic surgery has never been more popular. Would you undertake a cosmetic surgery procedure? Why? If you have had surgery - what have you gained from it?...
Growth In Severe Obesity Outstrips Moderate Obesity In America New Study Shows
The proportion of Americans who are severely obese grew twice as fast in the five years up to 2005, as the proportion of moderately obese in the population.The study was conducted by the RAND Corporation and will be published in the journal Public Health later this year. [click link for full article]
Ethicon Endo-Surgery, Inc., Files For FDA Approval Of New Gastric Band For Treatment Of Morbid Obesity
Ethicon Endo-Surgery, Inc., a Johnson & Johnson company, today announced that it has submitted a Premarket Approval (PMA) application with the U.S. Food and Drug Administration (FDA) for its adjustable gastric band, an implantable device intended to treat morbid obesity. [click link for full article]