What is bmi calculator?
BMI Calculator is FREE computer program which calculates your Body Mass Index and Basal Metabolic Rate and tell you if you are underweight, normal, overweight or obese and tells you the amount of calories your body uses to maintain the weight. Those kind of informations are important to have on hand for any dieting plan. BMI Calculator is desktop computer program - its advantage over online BMI and BMR calculators is that it is installed on your computer, you can access it without internet connection, it is lightweight and fast and you can put it on USB or removable disk, and it calculates BOTH - BMR rate and BMI index. This free little program is my effort to help fight growing obesity problem caused by modern way of living.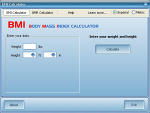 BMI means "Body Mass Index" (BMI). It is a number derived from your height and weight. BMI often indicates overweight problem and can be usefull in determining potential health risk. Typically, a BMI index between 20-25 is considered normal and healthy.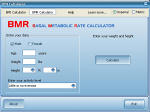 BMR means "Basal Metabolic Rate " (BMR). It simply represents the number of calories your body uses for maintaining energy level through a day.
random advice
In general, modern diets for reducing weight can be categorized in low-carb/high-fat and hi-carb/low-fat diets, each of them having many variations.
NEWSFEEDS
Glycemic Load: Overrated?
Tufts University have just completed the first phase of a study comparing low-glycemic-load and high-glycemic-load diets. The results show no significant difference after one year of weight loss....
What's all this about Hemp?
Surely no member of the vegetable kingdom has ever been more misunderstood than hemp. For too many years, emotion-not reason-has guided our policy toward this crop. And nowhere have emotions run hotter than in the debate over the distinction between industrial hemp and marijuana. This pdocast is intended to inform you on the true facts around hemp so you can distinguish between myth and reality. We talk with Charles Tremewen, Andrew Weil, Dr. Brian Becker and Adam Edinger about hemp and why it is such a terrific food plus the latest on regulations regarding hemp.
Mom's pre-pregnancy BMI may affect newborn's lifespan
Women who have a higher BMI before pregnancy are likely to have newborns with shorter telomere length - a biomarker for biological age, says new research.
How To Find Healthier Pasta
WebMD have compared various brands of pasta - in particular those that use whole wheat and have a higher fiber content. Whole wheat pastas are made from durum wheat. Durum is the second-most widely cultivated wheat species (after common wheat). The whole-wheat pastas tend to have a higher protein content (7g to 10g per 2 ounce dry serving)....
Dog Powered Scooter
A recent post showed someone "walking" the dog while driving their car. Here's another lazy better idea - the Dog Powered Scooter. From the site: A hobby/sport you both can enjoy so that more time can be spent together. Identity and pride for your dog....