What is bmi calculator?
BMI Calculator is FREE computer program which calculates your Body Mass Index and Basal Metabolic Rate and tell you if you are underweight, normal, overweight or obese and tells you the amount of calories your body uses to maintain the weight. Those kind of informations are important to have on hand for any dieting plan. BMI Calculator is desktop computer program - its advantage over online BMI and BMR calculators is that it is installed on your computer, you can access it without internet connection, it is lightweight and fast and you can put it on USB or removable disk, and it calculates BOTH - BMR rate and BMI index. This free little program is my effort to help fight growing obesity problem caused by modern way of living.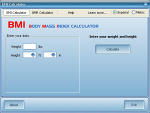 BMI means "Body Mass Index" (BMI). It is a number derived from your height and weight. BMI often indicates overweight problem and can be usefull in determining potential health risk. Typically, a BMI index between 20-25 is considered normal and healthy.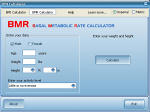 BMR means "Basal Metabolic Rate " (BMR). It simply represents the number of calories your body uses for maintaining energy level through a day.
random advice
You can speed up your metabolism with training. For dieting, having a slower but longer activity is usually better than quick burn off. Speed walk is great.
NEWSFEEDS
How To Find Healthier Pasta
WebMD have compared various brands of pasta - in particular those that use whole wheat and have a higher fiber content. Whole wheat pastas are made from durum wheat. Durum is the second-most widely cultivated wheat species (after common wheat). The whole-wheat pastas tend to have a higher protein content (7g to 10g per 2 ounce dry serving)....
Scientists uncover dietary strategy to address obesity using component in red chili
Scientists have discovered a dietary strategy that may address obesity by reducing endotoxemia, a major contributor to chronic, low-grade inflammation (CLGI).
Faux News: Breast Milk for Weight Loss
This week while trawling the web I came across an article in a Japanese website that talked about research into Lactoferrin. Apparently daily supplements of lactoferrin led to a significant reduction in visceral fat. The richest source of lactoferrin is human breast millk or colostrum. After a bit of research I decided the article was to be placed in the...
Fitness trackers accurately measure heart rate but not calories burned, study finds
Millions of people wear some kind of wristband activity tracker and use the device to monitor their own exercise and health, often sharing the data with their physician. But is the data accurate?
Fuel for the Race of Life with Dean Karnazes
What does it take in food, training and conditioning to 350 continuous miles, foregoing sleep for three nights? What does it take to run accros Death Valley in 126 degree temperatures, and run a marathon to the South Pole in negative 40 degrees. What kind of body does one need to have to swim across the San Francisco Bay, scale Half Dome in Yosemite and mountain-bike for 24-hours straight.? Dean Karnazes knows. He has done all this and more. Men's Fitness Magazine says "Dean Karnazes might just be the fittest man in the world!" On seven different occasions, he's run a 200-mile relay race solo, racing alongside teams of twelve. Dean is a Ten-time Western States 100-Mile Endurance Run Silver Buckle winner, has competed across the globe, and is the 2004 Badwater Ultramarathon champion, considered: 'The World's Toughest Footrace.' We talk with Dean about these extrodinary accomplishments and how he fuels his body and mind to do what he does. Dean is sponsored in part by Nature's Path Foods and he consumes Nature's Path foods for energy.