What is bmi calculator?
BMI Calculator is FREE computer program which calculates your Body Mass Index and Basal Metabolic Rate and tell you if you are underweight, normal, overweight or obese and tells you the amount of calories your body uses to maintain the weight. Those kind of informations are important to have on hand for any dieting plan. BMI Calculator is desktop computer program - its advantage over online BMI and BMR calculators is that it is installed on your computer, you can access it without internet connection, it is lightweight and fast and you can put it on USB or removable disk, and it calculates BOTH - BMR rate and BMI index. This free little program is my effort to help fight growing obesity problem caused by modern way of living.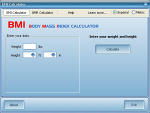 BMI means "Body Mass Index" (BMI). It is a number derived from your height and weight. BMI often indicates overweight problem and can be usefull in determining potential health risk. Typically, a BMI index between 20-25 is considered normal and healthy.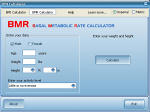 BMR means "Basal Metabolic Rate " (BMR). It simply represents the number of calories your body uses for maintaining energy level through a day.
random advice
Do not take BMI calculations too seriously. There are various body types and individual metabolic rates that BMI does not takes into account. Use BMI as a starting point to gauge your overall body composition. After all, nothing beats good old mirror.
NEWSFEEDS
The Karl Lagerfeld Diet
Karl Lagerfeld is a fashion designer. He is currently the chief executive of design at the House of Chanel. The world of diets is a strange one, and Lagerfeld added his contribution in 2002. After a massive weight loss of 92 pounds he decided to write his own diet book: The Karl Lagerfeld Diet. He has managed to keep...
Obesity Gene Discovered
UK researchers have discovered a commonly occuring gene variant that may explain why some people become overweight while others do not. However, they point out that it is unlikely to be the cause of the global obesity epidemic.The findings are published in Science, the journal of the American Association for the Advancement of Science. [click link for full article]
Valerie Bertinelli: Jenny Craig Endorsement
Jenny Craig have signed up another celebrity endorsement deal - this time with TV actress Valerie Bertinelli (One Day at a Time, Touched by an Angel). Bertinelli aims to lose 30lbs with the Jenny Craig program and will feature in commercials along with Kirstie Alley - as well as having her own blog. How credible are celebrity-endorsed weight loss...
Phone Counseling Helps Patients Improve Eating And Exercise Habits
"Phoning it in" works when it comes to losing weight and getting fit, according to a new systematic review. "There's an important use for the telephone in delivering support for making changes to physical activity and diet," said Elizabeth Eakin, Ph.D., lead study author, at the University of Queensland in Australia.The review appears in the May issue of the American Journal of Preventive Medicine. [click link for full article]
Body Weight Associated With Portion Sizes In Young Adults
College students with higher body mass indexes tend to consider larger food portion sizes as typical and therefore eat significantly larger amounts of high-calorie foods, according to researchers at Colorado State and San Diego State universities.In a survey of 51 students, the researchers found "when allowed to select their own portion sizes, participant BMI is a very strong predictor of larger than recommended amounts of food". [click link for full article]