What is bmi calculator?
BMI Calculator is FREE computer program which calculates your Body Mass Index and Basal Metabolic Rate and tell you if you are underweight, normal, overweight or obese and tells you the amount of calories your body uses to maintain the weight. Those kind of informations are important to have on hand for any dieting plan. BMI Calculator is desktop computer program - its advantage over online BMI and BMR calculators is that it is installed on your computer, you can access it without internet connection, it is lightweight and fast and you can put it on USB or removable disk, and it calculates BOTH - BMR rate and BMI index. This free little program is my effort to help fight growing obesity problem caused by modern way of living.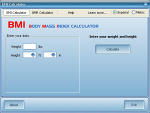 BMI means "Body Mass Index" (BMI). It is a number derived from your height and weight. BMI often indicates overweight problem and can be usefull in determining potential health risk. Typically, a BMI index between 20-25 is considered normal and healthy.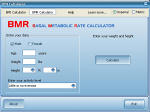 BMR means "Basal Metabolic Rate " (BMR). It simply represents the number of calories your body uses for maintaining energy level through a day.
random advice
Do not take BMI calculations too seriously. There are various body types and individual metabolic rates that BMI does not takes into account. Use BMI as a starting point to gauge your overall body composition. After all, nothing beats good old mirror.
NEWSFEEDS
Whole Grains... Good for the Brain
Nutritionists and Health Experts everywhere are telling us we need to eat a lot more whole grains to be healthy in the 21st Century. What are whole grains and why are they so important to our diet? Charles Tremewen and Maria Emmer-Aanes, both of Nature's Path Foods, share with us their knowledge of whole grains and how whole grains they help us cope with a hectic lifestyle. Our featured guest today is K. Dun Gifford, head of the Oldways Preservation Trust and founder of the Whole Grains Council. Dun is a expert on whole grains and responsible for a number of nation wide initiatives to help us make healthier food choices.
Diet and exercise may improve physical function and quality of life in older obese adults
A recent review and analysis of published studies since 2005 found low-to-moderate evidence that dietary and exercise interventions can improve physical function and quality of life in older adults...
Three in four don't know obesity causes cancer
Three out of four (75 per cent) people in the UK are unaware of the link between obesity and cancer, according to a new Cancer Research UK report* published today (Friday).
Energy... Fueling the Body for Life with Melanie McQuaid
Melanie McQuaid, a three-time Xterra champion and triathlete, talks about her sport, her training, and the food she uses to fuel her body for success. Originally from Victoria, BC, Melanie has raced at the highest level and has represented Canada at 10 World Championships for three different events, taking top spot to become World Champion in 2003. She understands the importance of eating a healthy, well-balanced diet, in order to ensure she always attains peak performance. Listen here to find out how she does it, and how you can make the right choices to stay at the top of your game.
Existence of exercise-induced muscle memory challenged
While there are many differences in gene expression after regular exercise training, researchers have found no evidence of training-induced muscle memory.