What is bmi calculator?
BMI Calculator is FREE computer program which calculates your Body Mass Index and Basal Metabolic Rate and tell you if you are underweight, normal, overweight or obese and tells you the amount of calories your body uses to maintain the weight. Those kind of informations are important to have on hand for any dieting plan. BMI Calculator is desktop computer program - its advantage over online BMI and BMR calculators is that it is installed on your computer, you can access it without internet connection, it is lightweight and fast and you can put it on USB or removable disk, and it calculates BOTH - BMR rate and BMI index. This free little program is my effort to help fight growing obesity problem caused by modern way of living.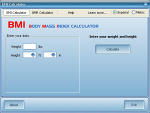 BMI means "Body Mass Index" (BMI). It is a number derived from your height and weight. BMI often indicates overweight problem and can be usefull in determining potential health risk. Typically, a BMI index between 20-25 is considered normal and healthy.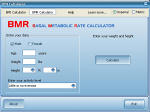 BMR means "Basal Metabolic Rate " (BMR). It simply represents the number of calories your body uses for maintaining energy level through a day.
random advice
Diets that requires minimal intake of fat with moderate carbohydrate intake are usually considered as traditional diets. Those diets requires precise calorie counting and lasts longer than ketogenic diets, for people tolerant to carbohydrates this may be a diet of choice
NEWSFEEDS
Whole Grains... Good for the Brain
Nutritionists and Health Experts everywhere are telling us we need to eat a lot more whole grains to be healthy in the 21st Century. What are whole grains and why are they so important to our diet? Charles Tremewen and Maria Emmer-Aanes, both of Nature's Path Foods, share with us their knowledge of whole grains and how whole grains they help us cope with a hectic lifestyle. Our featured guest today is K. Dun Gifford, head of the Oldways Preservation Trust and founder of the Whole Grains Council. Dun is a expert on whole grains and responsible for a number of nation wide initiatives to help us make healthier food choices.
No TV during meals may lower obesity risk
A new study finds that eating home-cooked family meals and switching off the TV while eating them drastically lowers the risk of obesity.
Organic Foods: How and Why to Make the Shift
What are organics, and why are they so important in helping us to maintain good health? Dag Falck, Organic Program Manager for Nature's Path Foods Inc., talks about how to consumers can make the shift to a primarily organic diet. He also describes the issues facing organic farmers, and how Nature's Path is working with them to maintain the integrity of this rapidly growing industry.
Elimination of specific neurons outside the brain by new technique triggers obesity
A research team led by Ana Domingos, from Instituto Gulbenkian de Ciencia (IGC; Portugal), developed a new genetic technique that allows the elimination of specific neurons of the peripheral...
Avocados can help to treat metabolic syndrome, says review
A new review concludes that avocados may help to treat metabolic syndrome by tackling a number of risk factors for the condition, such as high cholesterol.