What is bmi calculator?
BMI Calculator is FREE computer program which calculates your Body Mass Index and Basal Metabolic Rate and tell you if you are underweight, normal, overweight or obese and tells you the amount of calories your body uses to maintain the weight. Those kind of informations are important to have on hand for any dieting plan. BMI Calculator is desktop computer program - its advantage over online BMI and BMR calculators is that it is installed on your computer, you can access it without internet connection, it is lightweight and fast and you can put it on USB or removable disk, and it calculates BOTH - BMR rate and BMI index. This free little program is my effort to help fight growing obesity problem caused by modern way of living.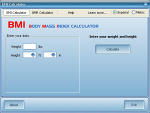 BMI means "Body Mass Index" (BMI). It is a number derived from your height and weight. BMI often indicates overweight problem and can be usefull in determining potential health risk. Typically, a BMI index between 20-25 is considered normal and healthy.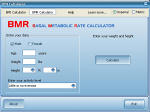 BMR means "Basal Metabolic Rate " (BMR). It simply represents the number of calories your body uses for maintaining energy level through a day.
random advice
Do not take BMI calculations too seriously. There are various body types and individual metabolic rates that BMI does not takes into account. Use BMI as a starting point to gauge your overall body composition. After all, nothing beats good old mirror.
NEWSFEEDS
Mediterranean Diet Helps With Allergies?
New research suggests that a Mediterranean-style diet could offer protection from asthma and allergic rhinitis. Why do children in some parts of Europe, such as the UK, get asthma while others, in places like Crete, do not?...
Ethicon Endo-Surgery Files For FDA Approval Of New Gastric Band For Treatment Of Morbid Obesity
Ethicon Endo-Surgery, Inc., a Johnson & Johnson company, today announced that it has submitted a Premarket Approval (PMA) application with the U.S. Food and Drug Administration (FDA) for its adjustable gastric band, an implantable device intended to treat morbid obesity. [click link for full article]
Obesity Toolkit Full Of Tips And Information, UK
An obesity toolkit crammed with practical tips and information isbeing launched to help people fight the flab and improve theirhealth. With almost a quarter of the adult population now classified as obeseand with the proportion of obese children rising by more than 40 percent between 1995 and 2004, an obesity toolkit is being published tohelp local councils and health bodies support people in their area tobeat the bulge. [click link for full article]
The Cardio-Free Diet
Fitness 'expert' Jim Karas has written a diet book claiming that cardio is a complete waste of time. The Cardio-Free Diet advises us to ditch the cardio: "it kills your time, your energy, your joints, and your motivation" "Cardiovascular exercise kills a weight-loss plan, your internal organs, your immune system, your time and your motivation. If your true goal...
Labeling Children Obese When They Enter School Is A Flawed Approach To Dealing With Obesity Epidemic
Internationally recognised expert in children's learning, Professor Brian Cambourne, today warned that labelling children obese when they start school could be a highly damaging step. Professor Cambourne raised strong concern about adopting a 'one size fits all' approach to tackling the health risks associated with childhood obesity. [click link for full article]