What is bmi calculator?
BMI Calculator is FREE computer program which calculates your Body Mass Index and Basal Metabolic Rate and tell you if you are underweight, normal, overweight or obese and tells you the amount of calories your body uses to maintain the weight. Those kind of informations are important to have on hand for any dieting plan. BMI Calculator is desktop computer program - its advantage over online BMI and BMR calculators is that it is installed on your computer, you can access it without internet connection, it is lightweight and fast and you can put it on USB or removable disk, and it calculates BOTH - BMR rate and BMI index. This free little program is my effort to help fight growing obesity problem caused by modern way of living.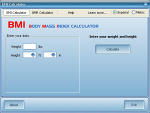 BMI means "Body Mass Index" (BMI). It is a number derived from your height and weight. BMI often indicates overweight problem and can be usefull in determining potential health risk. Typically, a BMI index between 20-25 is considered normal and healthy.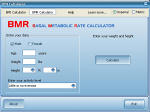 BMR means "Basal Metabolic Rate " (BMR). It simply represents the number of calories your body uses for maintaining energy level through a day.
random advice
You can speed up your metabolism with training. For dieting, having a slower but longer activity is usually better than quick burn off. Speed walk is great.
NEWSFEEDS
Diabetes doctors: Which specialists treat diabetes?
There are a variety of healthcare professionals that can help manage diabetes. Knowing what to expect from each will help you make the most of your visit.
Experts define obesity as a disease
In a consensus statement, the World Obesity Federation argue that obesity is a chronic, progressive, relapsing disease with food as the primary agent.
Breast cancer risk is more affected by total body fat than abdominal fat
A reduction in overall body fat, rather than abdominal fat, is associated with lower levels of breast cancer markers.
The Cardio-Free Diet
Fitness 'expert' Jim Karas has written a diet book claiming that cardio is a complete waste of time. The Cardio-Free Diet advises us to ditch the cardio: "it kills your time, your energy, your joints, and your motivation" "Cardiovascular exercise kills a weight-loss plan, your internal organs, your immune system, your time and your motivation. If your true goal...
Organic Foods: How and Why to Make the Shift
What are organics, and why are they so important in helping us to maintain good health? Dag Falck, Organic Program Manager for Nature's Path Foods Inc., talks about how to consumers can make the shift to a primarily organic diet. He also describes the issues facing organic farmers, and how Nature's Path is working with them to maintain the integrity of this rapidly growing industry.