What is bmi calculator?
BMI Calculator is FREE computer program which calculates your Body Mass Index and Basal Metabolic Rate and tell you if you are underweight, normal, overweight or obese and tells you the amount of calories your body uses to maintain the weight. Those kind of informations are important to have on hand for any dieting plan. BMI Calculator is desktop computer program - its advantage over online BMI and BMR calculators is that it is installed on your computer, you can access it without internet connection, it is lightweight and fast and you can put it on USB or removable disk, and it calculates BOTH - BMR rate and BMI index. This free little program is my effort to help fight growing obesity problem caused by modern way of living.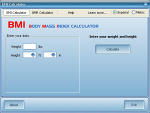 BMI means "Body Mass Index" (BMI). It is a number derived from your height and weight. BMI often indicates overweight problem and can be usefull in determining potential health risk. Typically, a BMI index between 20-25 is considered normal and healthy.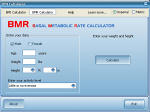 BMR means "Basal Metabolic Rate " (BMR). It simply represents the number of calories your body uses for maintaining energy level through a day.
random advice
Atkins diet is a very efficient, low carb and high fat diet that requires great discipline. Although the results can be fantastic this type of diet is not for everyone.
NEWSFEEDS
Subway to Sell Pizza
Subway is about to roll-out personal-sized pizza in it's 13,000 outlets. This is a strange move given all the hype about Subway's "healthier options". Recently I compared Subway and McDonald's and felt that Subway did offer the better options. Now I'm not so sure....
Scientists Say Dieting Does Not Work
US scientists conducting a comprehensive review of dieting research have concluded that dieting does not work.The study is published in the April edition of American Psychologist, the journal of the American Psychological Association.Researchers at the University of California, Los Angeles (UCLA), reviewed 31 long-term studies lasting between 2 to 5 years. [click link for full article]
Growth In Severe Obesity Outstrips Moderate Obesity In America New Study Shows
The proportion of Americans who are severely obese grew twice as fast in the five years up to 2005, as the proportion of moderately obese in the population.The study was conducted by the RAND Corporation and will be published in the journal Public Health later this year. [click link for full article]
A New Walking Study Encourages Overweight Americans To Step Up To Better Health
What if someone told you, you could walk your way to better health? With 65 percent of American adults considered to be overweight or obese, walking may be one way to battle the bulge. However, if you lack motivation, a prescription to walk may be just what the doctor ordered. That's the premise behind a 48-week pilot walking program conducted by 16 member physicians of the American Podiatric Medical Association (APMA). [click link for full article]
Faux News: Breast Milk for Weight Loss
This week while trawling the web I came across an article in a Japanese website that talked about research into Lactoferrin. Apparently daily supplements of lactoferrin led to a significant reduction in visceral fat. The richest source of lactoferrin is human breast millk or colostrum. After a bit of research I decided the article was to be placed in the...