What is bmi calculator?
BMI Calculator is FREE computer program which calculates your Body Mass Index and Basal Metabolic Rate and tell you if you are underweight, normal, overweight or obese and tells you the amount of calories your body uses to maintain the weight. Those kind of informations are important to have on hand for any dieting plan. BMI Calculator is desktop computer program - its advantage over online BMI and BMR calculators is that it is installed on your computer, you can access it without internet connection, it is lightweight and fast and you can put it on USB or removable disk, and it calculates BOTH - BMR rate and BMI index. This free little program is my effort to help fight growing obesity problem caused by modern way of living.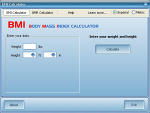 BMI means "Body Mass Index" (BMI). It is a number derived from your height and weight. BMI often indicates overweight problem and can be usefull in determining potential health risk. Typically, a BMI index between 20-25 is considered normal and healthy.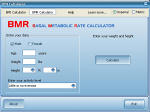 BMR means "Basal Metabolic Rate " (BMR). It simply represents the number of calories your body uses for maintaining energy level through a day.
random advice
In general, modern diets for reducing weight can be categorized in low-carb/high-fat and hi-carb/low-fat diets, each of them having many variations.
NEWSFEEDS
Valerie Bertinelli: Jenny Craig Endorsement
Jenny Craig have signed up another celebrity endorsement deal - this time with TV actress Valerie Bertinelli (One Day at a Time, Touched by an Angel). Bertinelli aims to lose 30lbs with the Jenny Craig program and will feature in commercials along with Kirstie Alley - as well as having her own blog. How credible are celebrity-endorsed weight loss...
Body Weight Associated With Portion Sizes In Young Adults
College students with higher body mass indexes tend to consider larger food portion sizes as typical and therefore eat significantly larger amounts of high-calorie foods, according to researchers at Colorado State and San Diego State universities.In a survey of 51 students, the researchers found "when allowed to select their own portion sizes, participant BMI is a very strong predictor of larger than recommended amounts of food". [click link for full article]
Community-university Program Lowers Cardiovascular Risk Factors
America is facing an epidemic. Despite numerous studies showing the negative effects of obesity on everything from heart disease and diabetes to possible links with cancer, one in five American children is obese. However, a collaborative program sponsored by the University of Michigan and the Ann Arbor community teaches children healthy habits and offers hope for a healthier future. And results from a new study suggest that the program is working. [click link for full article]
Obesity Toolkit Full Of Tips And Information, UK
An obesity toolkit crammed with practical tips and information isbeing launched to help people fight the flab and improve theirhealth. With almost a quarter of the adult population now classified as obeseand with the proportion of obese children rising by more than 40 percent between 1995 and 2004, an obesity toolkit is being published tohelp local councils and health bodies support people in their area tobeat the bulge. [click link for full article]
Ethicon Endo-Surgery, Inc., Files For FDA Approval Of New Gastric Band For Treatment Of Morbid Obesity
Ethicon Endo-Surgery, Inc., a Johnson & Johnson company, today announced that it has submitted a Premarket Approval (PMA) application with the U.S. Food and Drug Administration (FDA) for its adjustable gastric band, an implantable device intended to treat morbid obesity. [click link for full article]